The Power of Community: How Calgary Comes Together to Keep Our City Clean
Posted by Tarek Hageahmad on Wednesday, May 4, 2022 at 10:45 AM
By Tarek Hageahmad / May 4, 2022
Comment
Communities thoughout Calgary will be hosting their annual weekend spring cleaning event. Next event happens this weekend in SW Calgary. If you are interested in taking part in the spring cleaning event or wish to view the full list of upcoming calgary community clean up events click here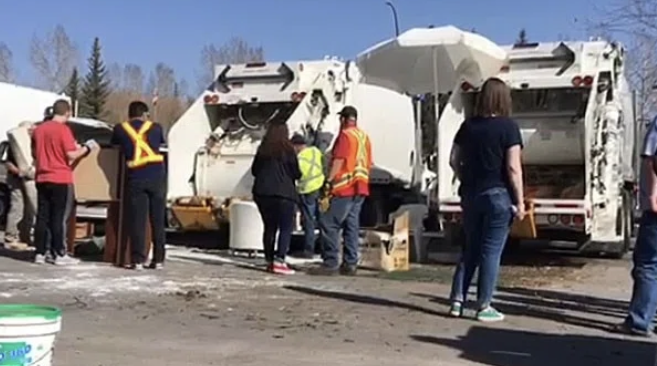 This is a "drive-thru" clean up event. You will remain in your vehicle and volunteers will remove the items for you. The city asks that you notify the volunteer what you are dropping off so they can guide you to the appropriate spot in the parking lot. When communicating with volunteers, please be kind and ensure you are wearing a mask if needed and review the lastest COVID-19 provincial regulations alberta.ca.
This event is a great opportunity for Calgary residents to come together and help keep their city/community clean. There are many benefits to taking part in the spring cleaning event, such as improving the appearance of your community, and it's also a great way to meet new people and make new friends.
It is very important to review what items are not accepted. For example do not include car batteries, glass (e.g., window panes), household appliances with Freon and microwaves. Liquids such as cooking oils should also be avoided because they can cause leaks in the container if handled improperly by our staff at transfer points along their route - which could result in an injury! Other items considered hazardous but not included on this list are railway ties/trestles; sod or dirt from home gardens- these two examples may require disposal through licensed landfilling facilities depending upon where they're being deposited since some locations don't allow residential waste streams without extra fees applying.
If you have any hazardous waste materials in your home, be sure to take them to a designated drop-off visit Household hazardous wate drop-off location for more details. Also, visit What goes where if you are unsure of where cetain items should be disposed.
Check out Hagent.ca for updated community events and for the latest in Calgary Real estate. Or click belwo to view: